[Update, 12/7/09: Dave is on his way to Copenhagen! He's been selected by HuffingtonPost as their Hopenhagen ambassador. Thanks to any WattHead.org readers who helped put Dave across the finish line.]

Writer, climate-energy expert, bicycle-adventurer, and WattHead.org contribute David Kroodsma is in the running to win the Huffington Posts' Hopenhagen ambassadorship. If he wins the contest, David will travel to Copenhagen as a citizen journalist, reporting for the benefit of all of us via the Huffington Post.

David has my strong endorsement in this contest, and I urge WattHead readers to click here and give him your vote (give him a 10!). It only takes 30 seconds to vote here.

It's fitting that Copenhagen has the world's highest use of bicycles--more than one third of residents commute to work by bicycle. I couldn't think of a better ambassador to the world's Bicycle City than David, who recently bicycled across 16 countries to gather stories and share his passion about climate change and clean energy solutions. As David peddled his bike across the United States and all the way to the southern tip of South America, he gave talks on climate change, listened to thousands of first-hand accounts of how a changing climate is viewed by the inhabitants of the Americas, and wrote about the subject for a variety of publications. Now, he has followed this amazing adventure by writing a book, The Road to Tierra del Fuego, which is due out in 2010.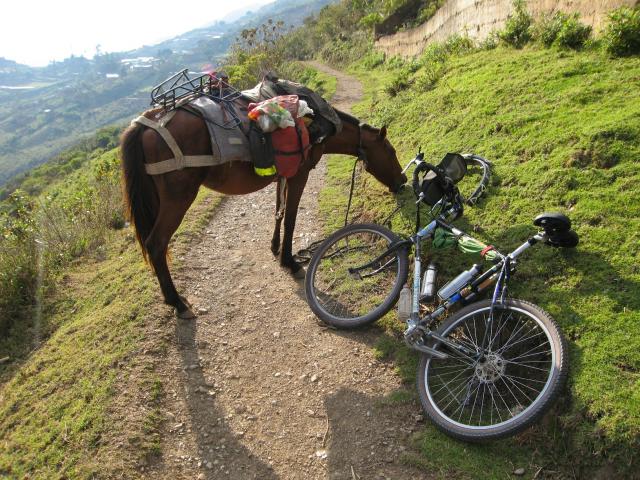 David's bike and a 'friend' in the Andes of Peru, on his Ride for Climate across the Americas.

Below is an excerpt from David's forthcoming book where he talks about transportation and energy issues facing the developing world, and where he compares the city of Copenhagen with American cities. The excerpt is from David's chapter on Colombia, where he visits the city of Bogota. Bogata has promoted bicycle use and invested heavily in public transit over the past decade. This investment has had a noticeably positive effect on pollution and quality of life in the city. You can find more of David's writings at RideForClimate.com.


Something else remarkable has happened in Colombia over the past decade: the country has reduced its carbon dioxide pollution. Some of this reduction has been because of an increase in hydroelectric power—eighty percent of the country's electricity comes from dams—and a decrease in coal-fired power.* But the Transmilenio and bikeways have also had a serious effect, perhaps decreasing Bogotá's pollution by over half a million tons of carbon dioxide a year and cutting Bogotá's total pollution by a few percent. Car use in Bogotá has dropped significantly, and nearly twenty percent of daily trips are via the Transmilenio, an efficient service that didn't even exist a decade earlier. Bogotá shows that reducing pollution often has ancillary benefits. The city didn't set out to reduce pollution. The city set out to make itself more livable, and consequently reduced fossil fuel use.

If cities in the developing world decide to copy Bogotá, how big of a difference would it make? In the next thirty years, almost all growth in greenhouse gas pollution is expected to come from developing nations such as Colombia—nations where living standards are rising rapidly. Cities in these countries are growing rapidly, and decisions made today will decide the transportation infrastructure for decades to come.

A city like Bogotá could look to U.S. cities like Los Angeles where the majority of commuters drive, or they could look to European cities such as Copenhagen where transit is evenly divided between personal automobiles, public transportation, and bicycles. Whereas the average citizen of Los Angeles produces about five tons of carbon dioxide per person through transportation, the average citizen of Copenhagen is responsible for less than one and a half tons per person from transportation.

Half of the world's population now lives in urban areas, and the difference between these cities copying the transit system of Los Angeles versus copying the transit system of Copenhagen is thus a difference of about 10 billion tons of carbon dioxide. Given that global carbon dioxide pollution from fossil fuels is roughly 30 billion tons today, the difference between a world of Los Angeleses and Copenhagens is dramatic.
Please give David your support over at the Hopenhagen competition. You can view David's video submission to the contest here: