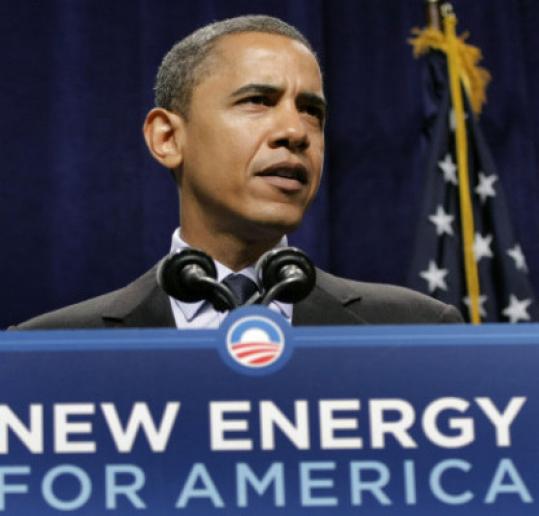 Obama will also speed efforts to set federal fuel economy standards.

BREAKING NEWS: President Barack Obama will grant California and 13 other states the authority to regulate global warming pollution from cars and light trucks, setting standards that would require cars and trucks sold in those states to achieve higher fuel efficiency.

According to the New York Times:
President Obama on Monday will direct federal regulators to move swiftly to grant California and 13 other states the right to set strict automobile emissions and fuel efficiency standards, two administration officials said Sunday evening.

The directive makes good on an Obama campaign pledge and marks a sharp reversal from Bush administration policy. Granting California and the other states the right to regulate tailpipe emissions is one of the most dramatic actions Mr. Obama can take to quickly put his stamp on environmental policy.

The presidential orders will require automobile manufacturers to begin producing and selling cars and trucks that get higher mileage than the national standard, and on a faster phase-in schedule. The auto companies had lobbied hard against the regulations and challenged them in court.
The Washington Post also reports on the story here
:
On Dec. 19, 2007, then-EPA Administrator Stephen L. Johnson blocked the efforts of California and more than a dozen other states to limit automobiles' carbon dioxide emissions, arguing that President George W. Bush had addressed the issue by signing a law that same day raising the corporate average fuel-efficiency standard to 35 miles per gallon by 2020. But California's tailpipe emissions rules would have effectively required even greater fuel-efficiency increases, by seeking to cut vehicles' greenhouse gas emissions by 30 percent between 2009 and 2016, something American automakers have resisted.
WattHead - Energy News and Commentary
has reported on the long, long saga of the California Tailpipe Emissions Standards
since California initially adopted the standards back in October 2005
. We'll continue to bring you the latest news in this ongoing story.

The Times and Post also report that on Monday, Obama will make further announcements concernign federal efforts to improve vehicle fuel economy, reduce government energy consumption (and save taxpayers money). According to the Times:
In a White House announcement scheduled for Monday morning, Mr. Obama will also direct federal agencies to immediately begin work on making all government buildings more energy efficient, with an eye toward saving as much as $2 billion a year and reducing the emissions of carbon dioxide and other gases blamed for the warming of the planet.

He will also direct the Department of Transportation to immediately begin drafting automobile fuel-economy regulations to comply with a law enacted in December 2007. Former President Bush delayed implementation of the law and left office saying there was not sufficient time to write the rules.
The Post again has more detail, clarifying that:
The Bush administration never issued near-term guidelines for tighter fuel-efficiency standards: The Transportation Department circulated a proposal last fall that would have required auto companies to build new cars averaging as much as 31.8 miles per gallon by 2015, compared with the current level of 27.5 miles per gallon, but it announced less than two weeks before Bush left office that it would not issue formal guidelines. ...

Obama, who has consistently urged U.S. automakers to produce more fuel-efficient cars, is likely to accelerate the timeline for raising the nation's corporate average fuel economy for cars and trucks. The Transportation Department guidelines must be issued no later than April in order to affect the 2011 auto fleet.
However, as the Post reports, the waiver allowing California and 13 other states to move forward with regulations on CO2 emissions from cars and trucks may do more to accelerate increased vehicle fuel economy than the federal CAFE standards:
Granting a waiver for California to regulate tailpipe emissions would affect nearly half the U.S. auto market. Thirteen other states -- including Maryland -- and the District have already adopted California's proposal, while at least four others have pledged to do so. When EPA rejected the waiver, Obama issued a statement saying the decision "is yet another example of how this Administration has put corporate interests ahead of the public interest. If the courts do not overturn this decision, I will after I am elected president."

"Not only is the new president a man of his word, but he's making a dramatic break with the Bush administration's climate policy," said Frank O'Donnell, who heads the advocacy group Clean Air Watch. "It's a powerful signal that science -- and the law -- will guide his administration's decisions. This should prompt cheers from California to Maine."
Happy Sunday!